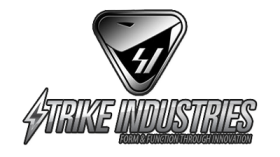 Since 2011, Strike Industries has manufactured quality AR15 parts and AR15 accessories for firearms enthusiasts. Their products are designed by shooters, with shooters in mind. Garrett Keller, the CEO of Strike Industries, has said, "we would not make, design, and manufacture a product that we would not personally use on the field." This motto has contributed to the company's success over the years, and Strike Industries is now a top provider in the firearms community.
A SH/HH-60 Helicopter Crew Chief Aviation Warfare Systems Operator/Aviation Warfare Specialist I in the US Navy, Keller has ample knowledge of small arms and tactical applications, including Spec-Ops and Combat Search and Rescue (STRIKE COMBAT Level IV). You can confide in the expertise of Strike Industries when purchasing their AR15 parts and accessories for your next build.
Strike Industries is committed to exploring new designs and bringing innovative solutions to the versatile AR15 platform, and ensuring only the best quality products for their customers. AR15 discounts offers a large number of Strike Industries products at an economical price, including charging handles and latches, AR15 dust covers, AR15 forward assist kits, and AR15 enhanced lower receiver parts kits. Also available are AR15 pivot/takedown pins, extended bolt catches, and the Strike Industries Flip Switch Low Profile Ambi Safety Selector.
Are you in the market for a Strike Industries AR15 charging handle? The best-selling ARCH-EL Extended Latch Charging Handle from Strike Industries is built tough for even the most adverse conditions. The forged hard anodized charging handle features the SI Extended Latch, which is the only one available on the market made of aluminum. An aluminum latch will not wear your receiver as fast as other steel latches. Get a deal on your Strike Industries AR15 charging handle, and many other AR15 parts and accessories, here at AR15 discounts.