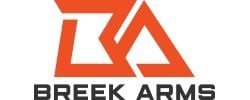 Breek Arms is a US-based company that specializes in manufacturing high-quality firearms accessories, specifically for the AR-15 platform. Their products are designed to enhance the performance of firearms and make shooting more comfortable and enjoyable for enthusiasts of all levels.
The company's product line includes a wide range of innovative products, such as adjustable gas blocks, muzzle brakes, handguards, and more. They are committed to using only the highest quality materials and manufacturing processes to ensure that their products are durable, reliable, and accurate.
Breek Arms takes pride in their exceptional customer service, with a team of experts available to assist customers with any questions or concerns. They also offer a lifetime warranty on all of their products, which is a testament to their commitment to quality and customer satisfaction.
Overall, Breek Arms is a trusted name in the firearms industry, known for their commitment to innovation, quality, and customer service. Their products are designed to meet the needs of shooters and enthusiasts of all levels, making them a go-to choice for anyone looking to enhance the performance of their AR-15.