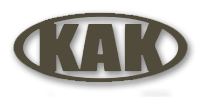 Kak Industry's aim is to breach the gap in the modern firearms market, and create quality, affordable, American-made AR15 parts and accessories. Founded in 2011 by Kurt Kosman, what began as one small shop for specialty firearms components quickly grew into a large manufacturer of nearly all machined components within the AR family. Today, KAK Industry still sells their products to end users, but also supplies components and assemblies to many major firearms manufacturers in the United States.
KAK Industry manufactures more than 1.75 million firearms components a year at their three-building manufacturing campus in Oxnard, California, and tests their products at their testing facilities in Lee's Summit, Missouri. Currently you can save on many of their products by purchasing them through AR15 Discounts, including Buffer Kits, Buffer Tube / Receiver Extension Kits, and pistol stabilizers in a variety of colors.
KAK Industry is known for the quality of its popular KAK AR15 Configurable Buffer Kit, available now from AR15 Discounts. The Buffer Kit is perfect for finicky builds, 9MM, and special subsonic work. Save now on KAK's AR-15 Shockwave Blade w/ Tiger Rock Pistol Buffer Tube, a best seller at AR15Discounts. It has everything you need to turn your stripped AR-15 or AR-9 Lower Receiver into an AR Pistol Receiver with stabilizer.
You'll also find the KAK Shockwave Pistol Receiver Extension / Buffer Tube, which features an anti-rotation and anti-thrust design so that it stays in place when being operated, and 12 adjustment dimples that create a very rigid fit. Get these products and more at a discount, plus get free shipping when you make a purchase of $175 or more from AR15 Discounts.