Bull / Heavy Profile barrel AR15 and AR10 builds are very popular due to their heavy-duty barrel profile. Most custom AR builders prefer to build at least one heavy barrel AR for their safe. Plus, now that silencers are easier to get, adjustable gas blocks have become an integral part of building a suppressed AR. Adjustable gas blocks are also useful for tuning the firearm to work together with your own custom supersonic or subsonic reloaded ammo. Whether it be a suppressed firearm, a pistol length or carbine length gas system, or even a standard AR, the ODIN Works .936 Adjustable Gas Block has the features you need to tune the direct impingement gas system of your AR platform.
The ODIN Works Adjustable Gas Block has multiple unique design features, starting with being machined from a single, heavy duty block of hardened carbon steel. The ODIN Works .936″ Adjustable Gas Block comes standard with the Black Nitride surface finish to provide complete protection. The adjustment screw and spring are manufactured from Inconel superalloy which is produced specifically to deal with high pressures and high temperatures like the ones created by the AR15 gas system. This Inconel superalloy screw provides you with 20 separate clicks of adjustment. To make a change or regulate the gas system, simply rotate the screw clockwise or counterclockwise to reach your desired setting. Plus, the AR15Discounts.com Satisfaction Guarantee says you can send it back within 30 days for a full refund if you're not satisfied with your purchase.
This ODIN Works Adjustable Gas Block comes with the .936″ inch internal diameter which is a common size for the gas journal on bull barrel AR15's and AR10's. ODIN Works manufactures other barrel and gas journal sizes too, depending on your needs. There is also an Adjustable Gas Block Re-build Kit available for your OW-AGB, in case you would like to replace the hardware after extensive use. When determining the diameter of your gas journal, be sure to measure the proper area of your barrel. See the picture below for a visual reference.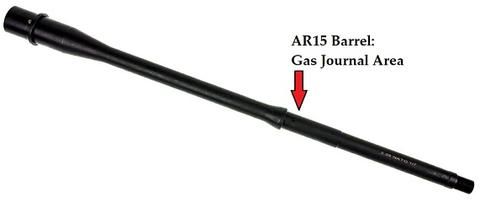 Technical Specs:
*Not for use with pistol length gas systems and high pressure rounds*
20 separate adjustments
Fits .936″ inch diameter bull barrels
Inconel adjustment screws and spring
Weight: 2.45 oz
Made from solid carbon steel
Includes detent ball, cross pin, set Screws and hex wrenches
Adjustable Gas Block Re-build kit available
To Disassemble for Periodic Cleaning: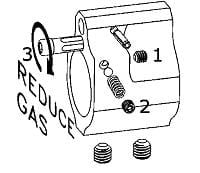 1. Loosen set screw #1
2. Loosen and remove screw #2.
3.Carefully remove spring and detent ball.
4. Remove gas adjustment screw #3.
5. Soak in cleaning solvent.