Now that suppressors are much easier to get and a lot more popular, adjustable gas blocks have become an indispensable part of Suppressed AR build. Adjustable gas blocks are also useful for tuning the firearm to work perfectly with your own specialized reloaded ammo. Whether it be a suppressed firearm or a standard one, the ODIN Works Adjustable Gas Block has the ability to custom tune the gas system to fit your needs.
The ODIN Works Adjustable Gas Block is designed with multiple features and machined from a strong block of steel. The ODIN Works Adjustable Gas Block also features a Black Nitride finish to protect it. The forward adjustment screw is made of Inconel superalloy which is ideally suited to withstand the pressure and temperature of the AR15 gas system. It also has an Inconel spring underneath the ball detent type adjustment screw that allows 20 clicks of adjustment. Just twist the adjustment screw in and out to your desired depth, and that's all there is to it.
The standard size gas journal for the factory AR15 barrel is .750″ inch diameter, but there are other barrel sizes available. Be sure to check the gas journal area of your barrel, because this ODIN Works Adjustable Gas Block is made specifically for barrels with an .875″ diameter gas journal. See below for the area to measure.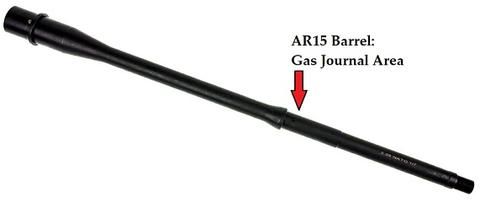 As always, the AR15Discounts.com satisfaction guarantee means that if you're not happy for any reason, you can send it back within 30 days for a full refund.
Technical Specs
Not for use with pistol length gas systems and high pressure (+P) rounds
20 adjustments via ball detent click
Fits .875″ diameter barrels (gas journal area)
Inconel high temp/high pressure adjustment screw and spring
Weight: 2.45 oz
Made from carbon steel for strength
Includes detent ball, cross pin, set screws, and hex wrenches
To Disassemble for periodic cleaning
Loosen set screw #1
Loosen and remove screw #2.
Carefully remove spring and detent ball.
Remove gas adjustment screw #3.
Soak in cleaning solvent.