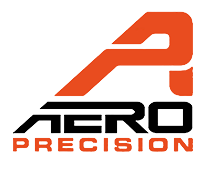 The Tacoma, Washington based Aero Precision designs, engineers and machines high quality AR15 Parts and Accessories. Their superior engineering and the ability to solve problems, has earned them the recognition of military and law enforcement communities throughout the country. One of Aero Precisions' more recent innovations, the M4E1 line of AR15 upper and lower receivers were instant classics. These forged receivers feature many of the enhancements previously only found on billet receivers. The M4E1 provides AR15 builders with a great deal on enhanced receivers at low prices.
In addition to upper and lower receivers, Aero Precision also makes a full line of M-LOK handguards/rails, replacement parts like Lower Parts Kits, Receiver Extension / Buffer Kits, and Ultra Light Scope Mounts.
AR15 Discounts is always expanding our line of Aero parts and accessories, if you have any recommendations for which of their parts we should stock next, please send us an email at [email protected]. Your feedback is greatly appreciated!