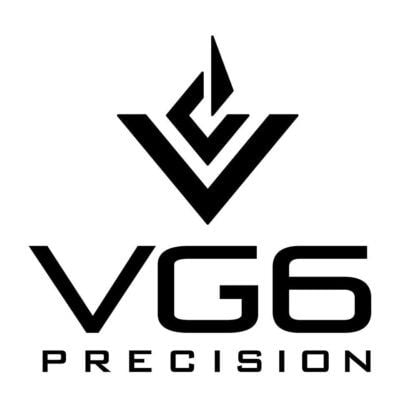 The mission of VG6 Precision from its beginnings in 2013 until now has been to make quality muzzle devices and accessories. In 2015, the company was acquired by Aero Precision, a leading AR15 parts manufacturer. This relationship has allowed VG6 Precision to continue to offer some of the best muzzle devices in the industry at extremely competitive prices. Now, quality parts such as the VG6 Precision Epsilon 556, the VG6 GAMMA 556, and the VG6 GAMMA 300BLK are available on sale from AR15 Discounts.
The best-selling VG6 Precision Epsilon 556, renowned for providing the best muzzle control and recoil mitigation the industry has to offer, is a true combination muzzle brake / compensator / flash hider. Made of 17-4ph® Heat Treated Stainless Steel, the device is finished with VG6's signature BLACKNITRIDE™and has a surface hardness of 68RC.
The equally popular VG6 GAMMA 556 was designed using state of the art engineering techniques, utilizing CFD (Computational Fluid Dynamics) and CAE (Computer Aided Engineering).You won't find a better muzzle brake and compensator hybrid anywhere.
AR15 builders who have tried the VG6 Precision CAGE Device have found it to be the pinnacle of concussion reduction technology. Made of the highest quality stainless steel, The CAGE device offers absolute control while sparing the concussion of a bare muzzle brake.