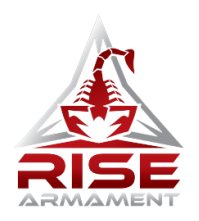 All RISE Armament-brand parts are manufactured according to strict AS9100- and ISO9001 2008-certified procedures, which are more stringent than typical gun manufacturing practices. AS9100 is the highest level of quality control certification; its standards were written for the high-risk aerospace industry.
They are also ITAR and CAGE Code registered, and they're registered with the JCP. The certifications' regulations provide assurance that what they build is safe, reliable, and of supreme quality. The certifications mean they're held to higher standards, but they don't come close to their own standards.
All RISE parts must pass stringent inspection and QA processes before leaving their facility. Their high-tech inspection equipment can measure up to five decimal places—two decimal places beyond the industry standard and far more precise than the human eye can detect. Parts must meet strict tolerances at multiple stages of production. Complete firearms must pass additional inspections during subassembly and, of course, after final assembly.