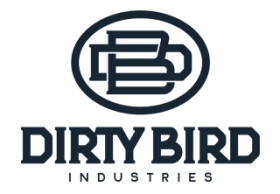 Dirty Bird Industries is a family owned and operated company in Bakersfield, CA, specializing in custom cerakote and AR15 hardware. These self-proclaimed "AR15 Build Junkies" value integrity, hard work and quality craftsmanship. They stock everything you need to build an AR15 from scratch, and take pride in delivering high-quality AR15 parts and accessories to their satisfied customers.
Dirty Bird AR15 parts available from AR15 Discounts include their Aeroshell 33MS Barrel Nut Grease Kit, AR15 Lower Accent Parts Kits, 10" Free Float Quad Rails, A2 Style Pistol Grips, and AR15 Stripped Upper Receivers. The best-selling Dirty Bird Industries Aeroshell 33MS Barrel Nut Grease Kit, which includes gloves and a brush, is fully approved to MIL-G-21164D specifications and lasts for 5 or more builds.
You can give your rifle a unique look with their popular AR15 Lower Accent Parts Kit, which includes a Trinity Force Ambidextrous Safety Selector, Mil-Spec Carbine Receiver Extension (Castle) Nut, Trinity Force AR15 Extended Bolt Catch Release, Mil Spec Magazine Catch, and Mil Spec Magazine Catch Button, all finished by Dirty Bird Industries.
Dirty Bird Industries understands the AR15 enthusiast's desire to customize his or her weapon, which is why the company offers a wide variety of colors for their AR15 parts. Dirty Bird A2 Style Pistol Grips are available from AR15 Discounts in OD Green, Zombie Green, Sniper Grey, Robin's Egg Blue, FDE, and Burnt Bronze. The AR15 Lower Accent Parts also come in many shades, including Midnight Bronze, Zombie Green, and OD green.