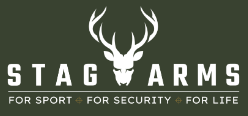 Stag Arms is a Wyoming based company, that prides themselves on being the very first manufacturer of the Left-Handed Modern Sporting Rifle. Stag Arms has over a decade of experience in the firearms industry and provides high-quality, USA-made products for left and right-handed shooters.
We are proud to carry the Stag Arms A3 Flattop Left-Handed Upper Receiver that is cheaper than anywhere else on the internet. With great reviews on these products, we are confident in saying that you will not be disappointed. We now also carry Left-Handed BCG's separately and in a bundle with this product to get your build started right.
If you're looking for left-handed AR15 parts built to last, look no further than Stag Arms. If their impressive resume doesn't persuade you to try their products, check out the specs of their most popular accessories. The budget-friendly prices available at AR15 Discounts give you one more reason to test Stag Arms products for your personal build.