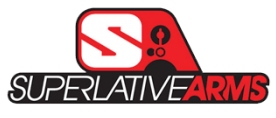 Superlative Arms was created by owners who have over 30 years of experience in aerospace engineering and manufacturing. Their world-renowned adjustable gas blocks have become staples on thousands upon thousands of AR-15's. All Superlative Arms products are made in the U.S., and are backed by a lifetime warranty.
We carry all of Superlative Arms' Adjustable Gas Blocks that feature a patented bleed-off port that is featured on the front of the gas block, as to not restrict gas flow, and a patented gas adjustment, that features 30 different locked positions. We also carry all of Superlative Arms' Retrofit Piston Systems for the AR-15 platform.
Find Superlative Arms gas blocks and piston systems here at AR15 Discounts on sale now.